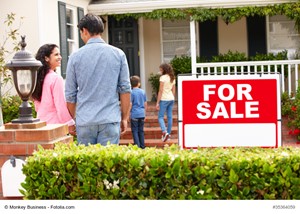 Creating curb appeal is an essential ingredient to attracting potential buyers to a house for sale. Similar to the concept of "dressing for success," when you make a strong first impression, your chances for producing positive results are greatly enhanced.
Looking good from the outside is the first step to capturing people's interest, but that's only the first of several hurdles that you have to clear. The last thing you want to do as a home seller is disappoint prospective buyers when they start looking around inside. That's why it's important to start strong and finish strong! While that may be easier said than done, it's a principle of success you can't afford to ignore.
Once you put your house on the market, there are two factors that could potentially work against you: the elements of time and competition.
Time is of the essence: Time can either be your friend or your adversary, depending on how long your house has been on the market. When house hunters see the words "just listed," it creates a feeling of excitement and urgency. For many eager home buyers, those two words mean there's a fresh opportunity to discover the house of their dreams... or at least a reasonable facsimile! It's especially enticing to frustrated buyers who have already looked at a lot of homes, without having found the right one yet. When a new house is listed and put on the market, couples will be thinking and saying "Maybe this house will be the one!" Your challenge as a home seller is to do everything possible and cost-effective to live up to their expectations! An important factor to keep in mind is that the longer a house is on the market, the less appealing it generally is to prospective buyers. Once a house has been languishing on the market for more than a couple months or so, it also puts the sellers at a negotiating disadvantage.
Competition is a fact of life: Buying a house is weighty decision. No one takes it lightly, and few buyers are going to make an offer on a house if they haven't looked at several others, too. Well-organized house hunters will have wish lists, "must have" requirements, and detailed notes and recollections about how each house stacks up. So it's important to work with your real estate agent to present your home in its best possible light. When your home compares favorably to other similar properties on market, your chances of getting it sold within a reasonable period of time are greatly improved.
Maintaining an appealing exterior will help give you an inside track in the competitive real estate market, but making sure your property is in good shape from top to bottom will often be the deciding factor in how soon you get to the finish line!